Aircraft Charter
At Corporate Jet Solutions, our worldwide network allows us to arrange charter service virtually anywhere, ranging from priority cargo, to large groups of over 100 people. Working with pre-qualified operators that meet our stringent service requirements, we present the best solutions for your aircraft charter needs.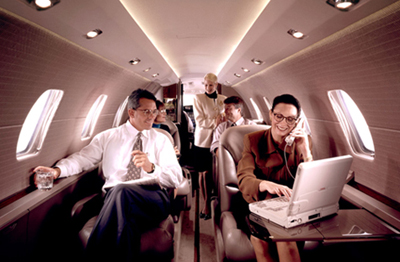 Safety
Chartering an aircraft is not a decision to be taken lightly. In most cases, an organization is transporting the most important individuals in the company to the most important business for the company. Using a service that puts safety before all other requirements should not be an option, but a minimum standard. At Corporate Jet Solutions we put safety first guaranteeing your company's ability to enlist safe, full service charters at the most competitive prices. Corporate Jet Solutions eliminates the guesswork from chartering an aircraft and keeps you focused on running your business.
Service
In a word, Service is our reason for existence. We operate with a deliberate conviction to give our clients the very best service possible. We work full time to research, audit and examine the best charter companies in the business. With our worldwide database, we guide our clients to the aircraft that best fits their needs.
Our job is to create solutions for the most challenging of requests. It's not only all that we do, it's everything we do. Our greatest expression of thanks for allowing Corporate Jet Solutions to be your choice for charter service will be providing you with the most creative and responsive service possible.
Convenience
The efficiency and Convenience of using business aircraft for travel speaks for itself, but it takes a lot more than a nice airplane ride to make a perfect trip. We go above and beyond the actual flight, by providing a "full service" service! Receiving quotes is as easy as clicking your mouse or picking up the phone. Visit our online quoting form here or feel free to contact us 24/7 via telephone 480-370-2020.
Value
Searching for aircraft operators that provide safe and responsive service is critical, but including this with Value is important as well. The combined buying power of our customer base makes us an ideal "customer" for our vendors. By meeting our stringent requirements, they in turn, receive greater volume, guaranteed payment with no credit risk, and broader exposure of their business. Through discounts from our vendors, we are able to pass along savings to our customers, who in turn often pay nothing for our services. Our customers have the peace of mind that comes with full-time experienced professionals managing their use of charter aircraft at an affordable price.

Please Email Us or call 480.788.6090 for more information.